Leading Access Control Company in Liverpool
Supply & Installation from Experienced Security Experts
Call us on 0151 329 2415
Tap to Call
We are a leading supplier of access control systems for business in Liverpool. We can supply key, code or swipe card systems for offices, gyms and other business applications.
We have many years of experience in the security business, and we have worked with companies of all sizes. Choose from systems designed for just a couple of doors, or ones to secure an entire hotel or other large facility.
Our access control systems range from simple key codes to biometric credentials, mobile-app based keys or programmable swipe cards. We offer systems that are simply dumb locks, and ones with detailed logging so that you can see who accessed each room, and when.
Our access control systems can be used as a standalone security measure, or in combination with alarm systems, security doors, and video surveillance hardware if the premises in question requires higher security. This allows you to reduce the number of security staff monitoring the systems as a whole, and offers a cost-effective way of securing 'off limits' parts of the building.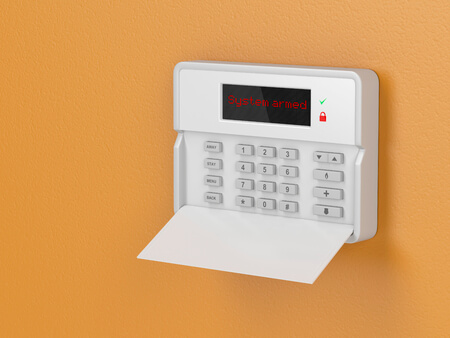 Our security systems comply with fire protection regulations, ensuring that no-one would be left stranded in a room if they misplaced their key or forgot the code. Their main focus is on ensuring that only people with the right credentials have access to secure areas.
Choosing an access control system can be a bewildering task, since there are so many authentication methods, features and specifications to think about. If you want integration with the rest of your security systems then it becomes an even bigger minefield. We have worked with companies of all sizes, and our customer service team would be happy to help you to choose the perfect system.
Fitting access control systems is often time consuming, especially with wired systems. There is an ongoing maintenance burden with wireless systems, and your company will need to consider how security will be handled, taking into account staff turnover, employees moving department and needing different access rights, etc. These are all things that we will be able to advise you on as a part of setting up the system for you.
With the right system, you will have full control over your building's security, and be able to monitor the comings and goings of staff or guests as required. We will use our expertise to tailor-make a system that will work well for your business.